"We have got all the technicians we need, we have got all the installers, we can get out there and we can cover the country … The one thing we are having a problem with at the moment is getting through people's doors and actually encouraging them to embrace this."
Eon's Political and Regulatory Affairs Director admits that Smart Meters are not popular and wants a change of tactics from the government.
---
The BBC reports that Smart Meters are driving some people mad. "My smart meter loses connection, the weather seems to affect it, and it beeps all the time and the only way to stop it is to remove the batteries" says one customer. The NAO also reminds us again that the oft-quoted budget of £11bn is a fantasy.
---
Important new peer-reviewed paper + presentations on wireless health impacts
"Comparing DNA Damage Induced by Mobile Telephony and Other Types of Man-Made Electromagnetic Fields" by Dimitris J. Panagopoulos PhD of the National Center for Scientific Research "Demokritos", Athens, Greece. Dr. Panagopolous shows that real world Mobile Telephone EMFs are far more damaging than 50 Hz alternating magnetic fields (similar or much stronger to those of power lines), and significantly more bioactive even for much shorter exposure durations than the other EMFs.
You can download and read the full paper free via the ResearchGate portal.
Don't miss Dr. Panagopolous' presentation, given at PHIRE's Conference in London in November 2018, which is now online and linked below.
You can also watch all of the other presentations from this event here. The international speakers included Prof. Martin Pall, Dr. Fiorella Belpoggi, Prof. Anthony Miller, Prof. Dennis Henshaw, Dr. Sarah Starkey, Brian Stein CBE and PHIRE founder, Dr. Erica Mallery-Blythe.
---
WHO-IARC to reassess RF-EMF radiation for cancer risk
An advisory committee has recommended that the WHO's International Agency for Research on Cancer (IARC) reassess the cancer risks associated with RF radiation (it was categorised as a Class 2B possible carcinogen in 2011).
According to the report, issued in April, this review request carries a "high priority". Strangely, though, it has been decided that it will only be looked at towards the latter half of the period between 2020 and 2024 — just after 5G has established itself. More on this at microwavenews.com.
---
A new paper by Prof. Tom Butler, University College Cork
On the clear evidence of the risks to children from Smartphone and WiFi radio frequency radiation.
"Children's health and well-being is under significant threat from everyday digital technologies, as the past 15 years have seen the proliferation of microwave Radio Frequency Radiation (RFR) devices in the home, school and society. The safety standards for such devices—smartphones, tablets etc.—were based on the proven thermal or heating effects of microwave devices in adults, not children. Scientists in the life sciences have long been aware of equally harmful non-thermal effects. However, physicists and engineers have operated on the theory that non- ionizing RFR could not directly damage human DNA and lead to cancer, as it was far less powerful than ionizing radiation (x- rays, nuclear etc.). That theory has been solidly and roundly refuted, as this paper illustrates. Cancer risks aside, research studies have demonstrated that low-intensity RFR elicits a range of pathophysiological conditions in experimental animals and humans. This is why parents, educators and governments should be alarmed and take immediate and appropriate action. In an Irish, and indeed international context, there is clear ignorance on such matters."
---
Will Smart Meters help the fight against Alzheimers? No. Here are 72 studies on EMFs and dementia.
---
Mixed messages
If Smart Meters are voluntary, how is it reasonable that energy firms get fined for missing installation targets? This is not the first time fines have been handed down, and must explain, in part, why we continue to see bullying and lies from energy firms to get smart meters in through our firmly closed doors. (No prizes for guessing who ultimately picks up the tab for these fines through inflated bills)
---
Brussels says no to 5G on health concerns
Plans for a pilot project to provide high-speed 5G wireless internet in Brussels have been halted due to fears for the health of citizens.
"I cannot welcome such technology if the radiation standards, which must protect the citizen, are not respected, 5G or not. The people of Brussels are not guinea pigs whose health I can sell at a profit. We cannot leave anything to doubt."
~ Céline Fremault, Minister of the Government (Brussels-Captial Region), responsible for Housing, Quality of Life, Environment and Energy.
---
The effects of 5G have been known about since 1977
Declassified by the CIA in 2012, this 1977 study from Russia shows that the effects of millimetre waves — which 5G will use — have been known about for a long time. It itself cites references back to the 1960s.


Hat-tip: Dr. Joel Moskovitz.
---
SwissRe has released it 2019 SONAR report outlining its view on the most significant emerging risks. In the >3 year time frame, the "unleashing of 5G technology" occupies the zone of greatest risk, and its negative impacts on health, privacy, security and cyber espionage. Full report available here.
---
5G myth busting - Radio Merseyside
Radio Merseyside's Roger Philips Show recently took a call from member of the public who was concerned about the rollout of 5G. The show's eponymous host, Roger Philips, dismissed her arguments and made a few points which didn't stand-up to scrutiny. So it was only fair to give them a call the following day to try to level things up. Tune in for 17 minutes of EMF fact-checking.
---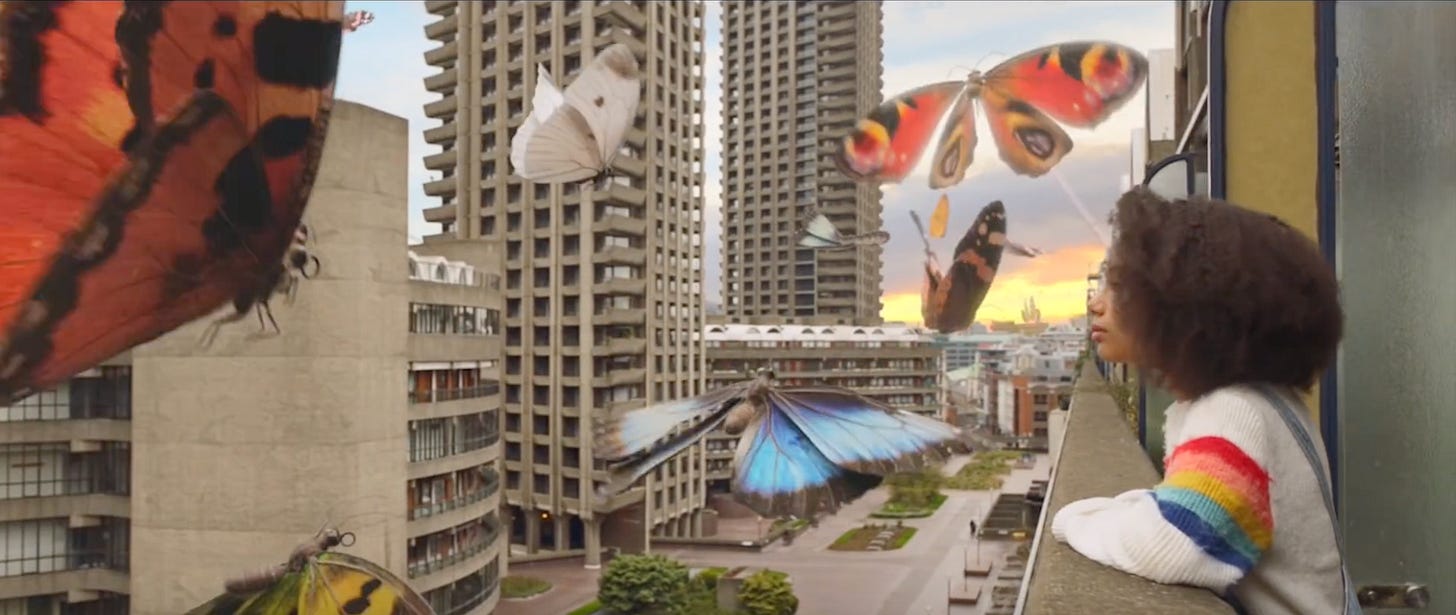 Smart Energy GB are now using children in their £200MN Smart Meter adverts. There is a name for this technique, coined by Black Swan author Nicholas Naseem Taleb:

Now you'll be able to recognise a pedophrast when you see one.
---
Is anywhere safe from the march of useless tech?
Expectant mums can now put tampon-shaped speakers into their vagina so that unborn babies can hear music.
(We understand that the device cannot currently be used to meter the baby's energy usage)
---
A tale of two cities
This month there were two stories related to the drive towards mass surveillance that had very different endings.
In London, a pedestrian was fined £90 for the 'disorderly' act of covering his face from new facial recognition cameras — and then forced to have his picture taken anyway. You can watch his brief account of the incident here.
In San Francisco, though, the city's Board of Supervisors banned the use of facial recognition software by the police and other city agencies. Campaigners said its use by government was an "invasion of privacy incompatible with healthy democracy".
---
Jenny Fry Memorial Lectures, Horsham — 8th June 2019
In memory of the late Jenny Fry, EMF Aware are hosting another day of lectures + an open clinic at Sedgewick Park House, Horsham on 8th June. Speakers include ARTAC's Prof. Dominique Belpomme, Phonegate president Dr. Marc Arazi, Dr. Erica Mallery-Blythe and tireless campaigner Debra Fry — Jenny's mum. Email emfawaresussex@gmail.com for more details.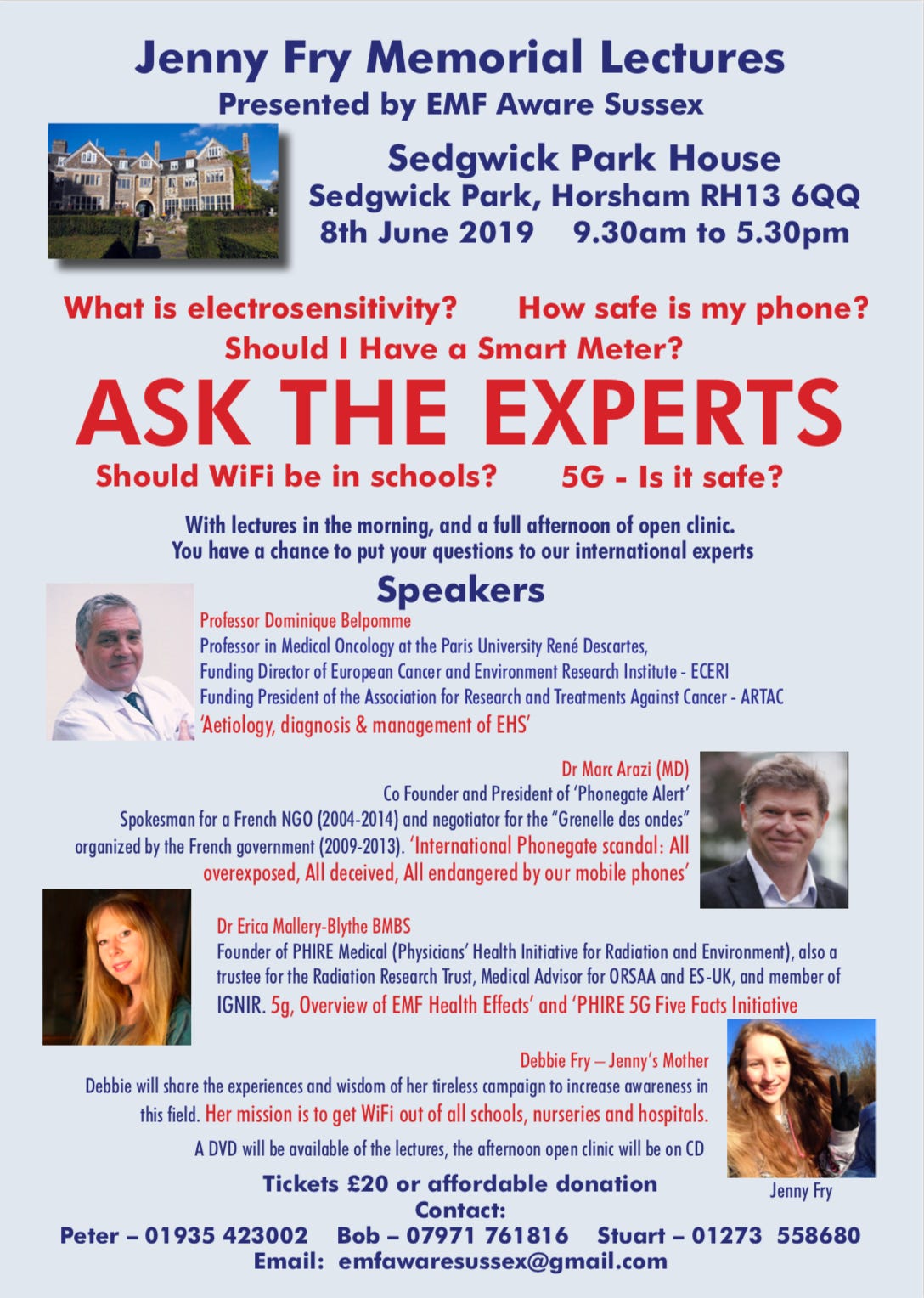 ---
That's all for this time. Take care.